How To Improve Efficiency At Your Distribution Center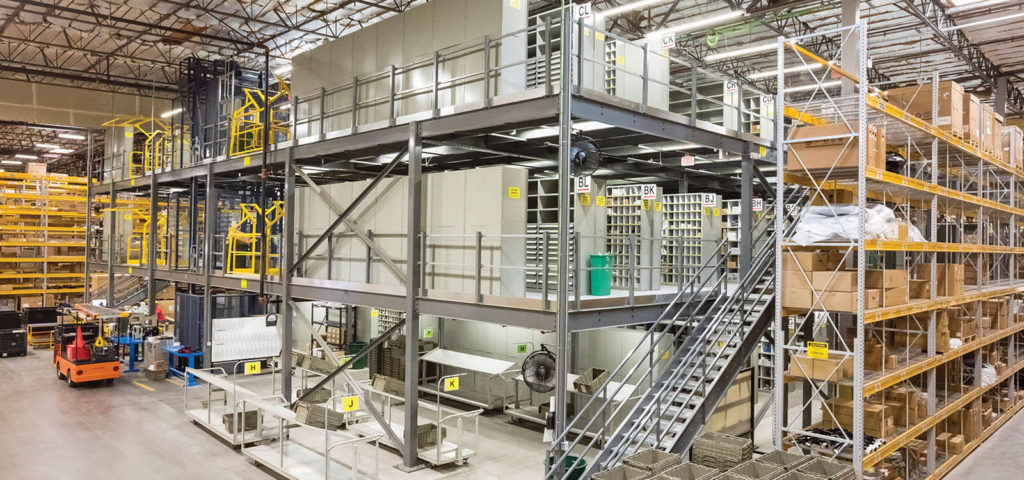 How Do You Improve Efficiency At Your Distribution Center? With A Mezzanine!
We all look forward to our businesses growing and achieving new goals. The growth of your business is exciting, but it is also a challenging time. In a distribution center, your operations are all about maximizing the movement and transport of your products within your available workspace. So, what happens when increasing demand is starting to outpace your current capacity?
The Best Solution For Your Situation
When faced with a challenge like this, businesses will look towards two common solutions: moving to a new facility or building an addition onto an existing location. Both of those possible solutions are costly and time-consuming. You might get the results that you are looking for, but it will take a long time and require a substantial investment on your part. A mezzanine is a quicker, and much more cost-effective solution.
A warehouse mezzanine allows you to maximize your use of the available space you are already paying for. They are a one-time investment and can go from consultation to installation in a matter of weeks or months. When you own a building, you are paying for all of the space in an existing facility – that includes the vertical space. One of our work platforms will empower your distribution center to put that vertical space to use.
Why do you think Amazon fulfillment centers are so tall? They face some of the most daunting distribution and order fulfillment hurdles across any industry, and they have chosen to invest in buildings that make use of mezzanines. This investment on their part means that they need to purchase less overall real estate and allows them to use their space more efficiently.
Create Storage Space In Your Work Environment
An industrial mezzanine creates another level of workspace. The concept is pretty simple. It is a structural steel platform that is installed between the main floor of your building and the ceiling. However, in the hands of Mezzanine Distributors, this simple steel mezzanine can become much more than that. We will work with you to develop the work platform that is designed to meet your needs and the unique operations of your distribution center.
Ease Of Mobility And Installation
Part of the added value of a free-standing mezzanine is that the installation and possible future relocation process is completely managed by us. As a turnkey provider, we are your single point of contact and source for space-maximizing solutions. Our crews will handle the entire installation process, and because your mezzanine is modular, it can be relocated or expanded, if need be.
Custom Design Options
There is no one-size-fits-all solution when it comes to maximizing your use of space. Our project managers and design experts will work with you to design a system that fits your unique requirements. We will get to know your material handling and floor space needs to develop a warehouse mezzanine floor that works best for you.
To learn more about how a mezzanine can enhance your distribution center, contact Mezzanine Distributors today. We will provide a turnkey experience with a pre-fabricated heavy duty system made specifically for your business.