Warehouse Mezzanine – Grow High, Not Wide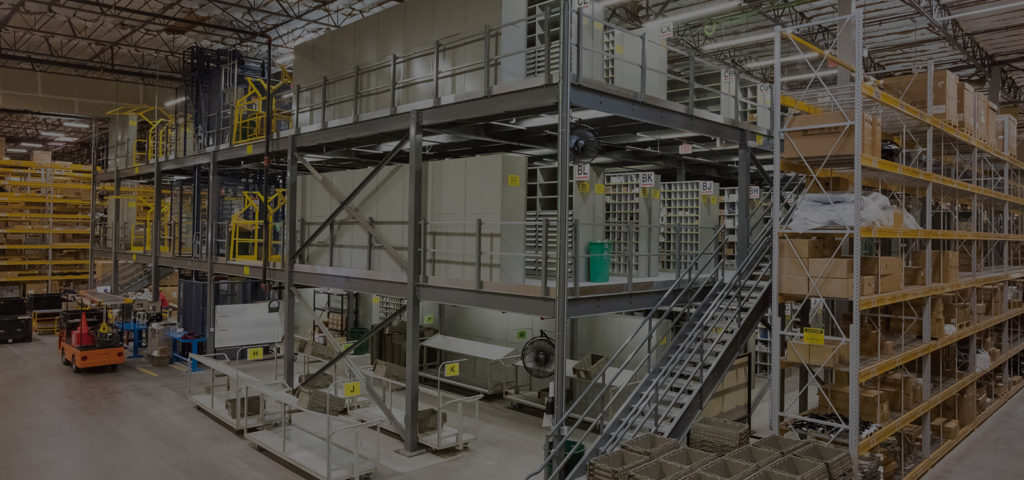 Maximize What You're Capable Of
When you get a mezzanine from Mezzanine Distributors, you are receiving more than just a work platform; we don't just offer more storage space options, we provide space-maximizing solutions. Every business struggles with making the most out of their existing floor space, and many of them are missing out on resources right in front of them. Mezzanine Distributors specializes in helping businesses take advantage of their vertical space with our industrial mezzanines.
Making Room For Your Growth
As the years go on, there are always concerns that you might outgrow your facility. This is especially true for companies that literally grow their products.. Any indoor grow operations or greenhouse will need to find creative ways of working within their given space.
If you don't find ways to expand, then you'll always be limited by the dimensions of your facility. There are a handful of ideas that people will consider when they need more space than their current facility allows, like moving to a new location, or building an addition onto your existing facility. Both of those solutions are costly and will take a significant amount of time before you start to see a return on that investment.
A mezzanine creates the opportunity for your resources to grow vertically as the demand for your product increases. One of our free-standing, heavy-duty steel mezzanines can go from consultation to construction in no time at all. They're a one-time investment that requires minimal ongoing maintenance. Your facility will have your new space on a much more cost-effective timetable. Tax and building codes will also allow you to depreciate your work platform over 7 years; new buildings and additions will take much longer than that.  
The Custom Approach That You Deserve
A warehouse mezzanine system will help you think three-dimensionally, making the most of your vertical space. When you partner with us, your business will get the personal touch that comes with our experience and expertise. We do not supply one-size-fits-all solutions. Your new structure will be designed to meet the particular needs of your business right down to the mezzanine floor system.

Thanks to our manufacturing partners, we have access to all of the accessories that you will need to make the most of your storage mezzanine. We can offer a wide selection of guardrails, handrails, access gates, staircases, and flooring; all of which can be specifically chosen to suit your needs.
If you operate a greenhouse or growing facility and just want a way to get more uninterrupted floor space, you can still benefit from a partnership with Mezzanine Distributors. We have the ability to design, deliver, and install modular office space in your facility. These modular offices can be added to a mezzanine or built in any available space in your building. Since they are modular, they can be quickly assembled or disassembled to move to a new spot or even new building.
Turning Your Unused Space Into New Opportunities
We want to help you get the most out of your available space. Our mezzanines are an effective solution for many businesses, but that is not all we offer. We also have the capability to design, deliver, and install facility accessories like vertical reciprocating conveyors and racking storage systems. Both of these can be added to a mezzanine, but they can also exist on their own depending on your needs. We offer several different types of structural steel racking systems that can be arranged to fit the needs of your products.  
Mezzanine Distributors create space-maximizing solutions to companies all over the United States. We have a custom process where we learn about your requirements and design a system specifically for you. Our partnerships in manufacturing, shipping, and installation enable us to be a complete turnkey provider of pre-fabricated mezzanines.