What is a Mezzanine?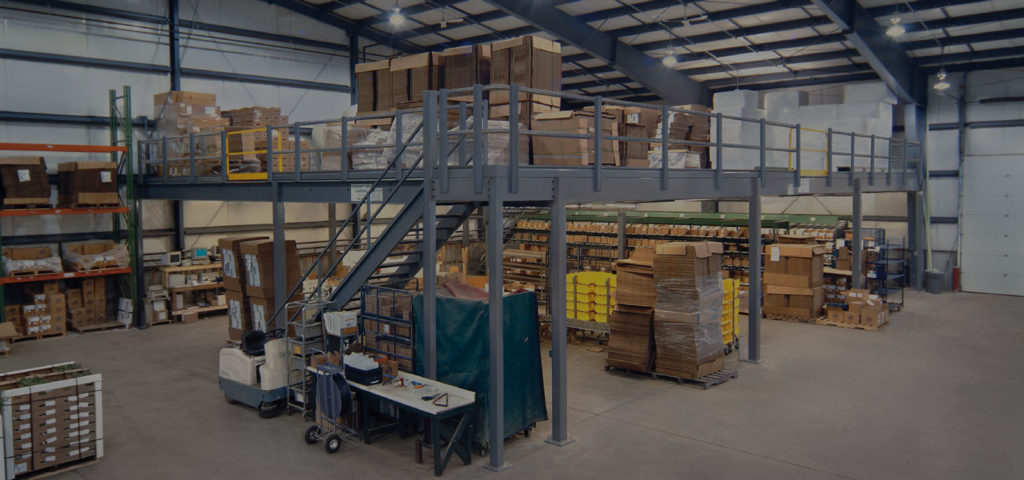 Depending on your needs, a mezzanine can be many things. In an industrial or warehouse setting, it presents an opportunity for all aspects of your work to be performed on a new level or a new storage space to free up your ground floor. Our customized mezzanines are a completely free-standing structure which means they can be moved to new locations, depending on your needs.
With Mezzanine Distributors, you will have a work platform designed to meet the needs of your workplace and your industry. Our project managers will partner with you to learn about the individual needs of your organization. You might come to us with a layout already in mind, and we will work to turn your vision into a reality. Or, you can approach us with just the need for a space-maximizing solution; our expertise will fill in the blanks and deliver the answer you need for your facility.
A Simple Definition is Not Enough
The basic definition of a mezzanine does not encompass everything it could bring to your location. At its most primitive, it is a storage space for overflow of inventory from your ground level. Beyond that, it is a cost-effective way of transforming your material handling strategies in a variety of ways. The structures we design and install offer a broad range of industrial and warehouse solutions.
There are many ways that our work platforms can be structured and laid out. If you need a mezzanine office solution that is off the main floor and out of the way, we have the ability to supply a modular office space that sits on your platform or on any other available space in your facility. We also have the safety products and accessories to make your system safe to use and optimized for your daily operations.
Warehouse Mezzanine
Typically, a mezzanine can cover up to 1/3 of your existing floor space on average. That means, if you have a 60,000 sq ft facility, a steel mezzanine can add up to 20,000 sq ft of viable space to your building without taking anything away from the ground level. When the time comes that your business needs more space, there are three basic options:
Move to a new location
Build on an addition to your existing location
Build a new facility
All three of those options are expensive and time-consuming and come with the disadvantage of causing downtime in your day-to-day operations. The fourth option we present is one of our mezzanines. One of our pre-fabricated mezzanine systems can go from consultation to installation much quicker than building any new facility. Structures like these are also a one-time purchase with little to no ongoing maintenance. Think of the money you'll save by not investing in a new building that would take years to pay off, while still solving your storage space challenges.
To learn more about the opportunities we can deliver to your facility, contact us today. We provide space-maximizing solutions to organizations across the country, and we have the answers to your space limitations.