The Benefits of Mezzanine Storage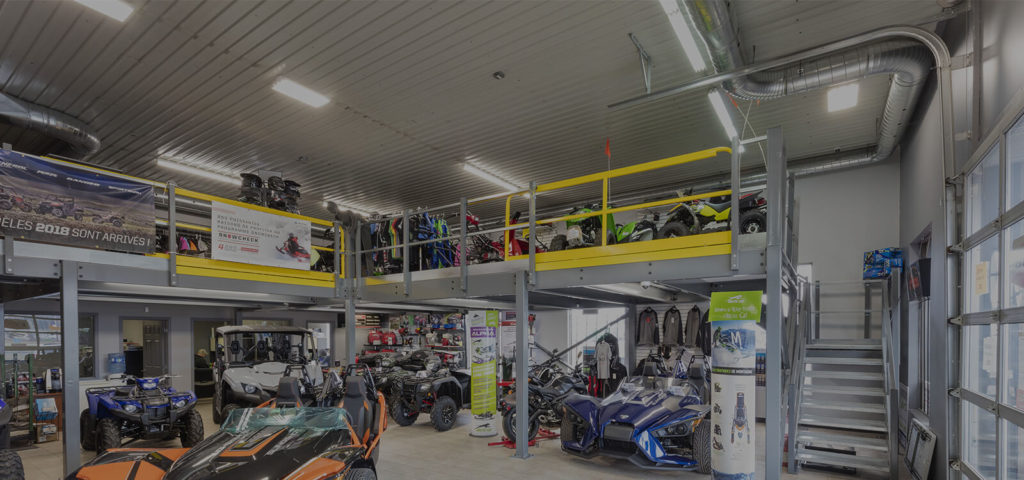 Mezzanines are an ideal way for businesses to create more floor space in their warehouses and logistics facilities. There's always a need for more space, and businesses need unique ways to make the most out of every available square foot.
Mezzanine Distributors has helped many clients use mezzanine systems to solve some straightforward and unique issues alike. Here are the main benefits of mezzanine systems and how we were able to help our clients save money and streamline their processes.
Additional Storage Space
The obvious advantage of a mezzanine is the ability to store more products within a building's existing footprint. We worked with a pool and spa company that needed a second facility. The location they chose was not large enough to support their needs so they turned to Mezzanine Distributors to help maximize their space. This structure was planned to not only meet present space requirements but future needs as well. We came back a few months after the initial installation to install the expansion and provide even more storage space.
House Important Equipment
The equipment your company purchases represents a significant investment, which is why an industrial mezzanine is an ideal way to house the new equipment and place it in exactly the right area without needing to dedicate large amounts of floor space to it.
Mezzanine Distributors worked with a brewery on a mezzanine that would fit within a unique space and elevate an important piece of equipment. The mezzanine was small, but it was important to get this piece of equipment off the ground. Also, since it needed to be installed in a very tight space, the correct dimensions and measurements were crucial. The final mezzanine design called for an 80-square-foot mezzanine, handrail on all sides, a lift-out gate, and an L-shaped staircase.
A Mezzanine Is a Customizable Structure
Not all spaces are created the same. A mezzanine is a modular structure that can be modified to fit virtually any space, for any purpose. And since it's a free-standing structure that's not permanently attached to the foundation or existing walls, your mezzanine can be moved easily. Your mezzanine may be needed elsewhere in the facility, further customized to accommodate more machinery or expand storage, or even dismantled and taken to a new building. One of our recent clients needed a solution to get an important piece of equipment off the ground and provide more storage. The area they were working with was a very tight space and we had to work around existing structures and HVAC ductwork. We worked closely with the customer to make sure the equipment was handled properly, that there was no disruption to their current operations, and that their design requirements were optimized. In the end we were able to turn tight overhead space into a satisfying storage solution.
Add Office Space
Not all mezzanines store products or house equipment. One of the more unique projects we've worked on was for a customer who trains law enforcement personnel. They needed a structure that would mimic a two-story house or office building. It needed to have a customizable layout and an overhead high-definition camera system. We built a 1,600-square-foot mezzanine complete with L-shaped staircase, bar-grate flooring, and mesh handrails. This illustrates how a mezzanine system can be used to create additional space in your facility with customizable, modular materials.
There is no need to feel limited by your square footage
When space is at a premium, Mezzanine Distributors is here to make sure you can take unused overhead space and use it to maximize your operations. We are a turnkey provider of pre-fabricated mezzanine systems and if your business has open spaces that could be performing better, contact us today and we can design and install the perfect solution.