Warehouse Modular Offices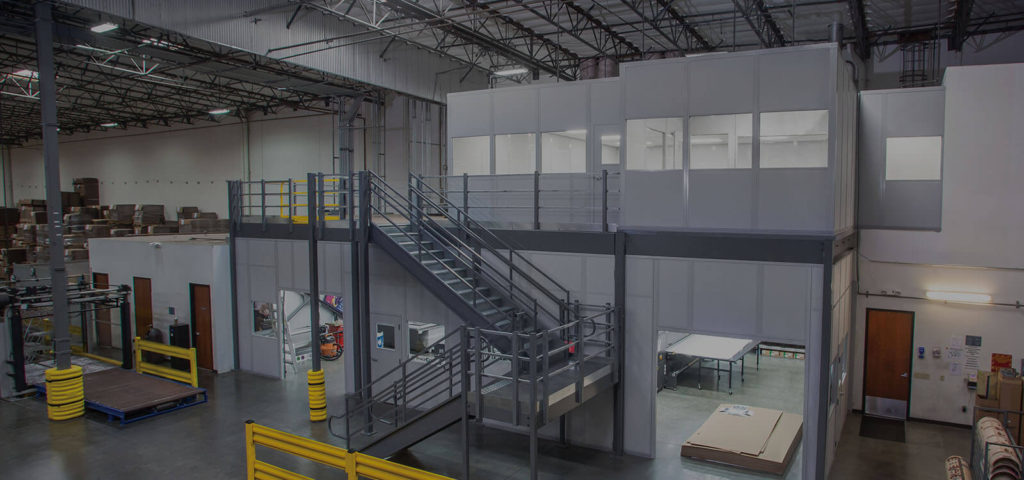 When you need to maximize your office space, a modular office design brings some important benefits
For a growing business, space is sometimes hard to come by. Even if your growth is planned to the exact square footage, there may be times when you need more office space–fast. For businesses that have an existing warehouse space, the solution is simple. Modular offices provide the administrative support your new processes require while using existing space within your building.
Mezzanine Distributors has used modular building designs to do some amazing things for our clients. They can expand your production capabilities, give you more opportunities for security or quality control, or simply handle overflow caused by growth. Modular buildings provide the same heavy-duty performance, but not the extensive designing and installing of traditional construction. Here are some great reasons modular offices are a superior choice for your warehouse.
Typical Construction Can Be Costly
When you build a room traditionally, you have to frame walls, doors, and windows. You have to plan and accommodate electricity, HVAC, telecommunications, and even plumbing. Traditional methods mean you must purchase materials in preset quantities, which means your company is wasting money on unused components. Since modular office sections and platforms are constructed offsite, you only pay for the finished product.
Versatility Now and in the Future
An office today may need to become storage in two to three years. Traditional construction creates a virtually immovable object that must be planned around or torn down, which takes time and resources. Modular construction means structures are built from parts that are designed to be quickly assembled and disassembled, meaning the office space can be moved or torn down with minimal expense and be replaced with another modular structure in a matter of days, not weeks or months. When you modify these buildings and platforms, you purchase parts that easily integrate with what is already there. This translates to no waste and cheaper expansion costs.
Expand Your Leased Property Without Adding Additional Square Footage
If you lease your building, you may have a hard time getting the landlord to agree to a permanent structure within its walls. Triple net lease agreements mean additional expenses, so modular warehouse structures make even more sense. You may not own the building, but any modular structures you build in it are yours.
Modular Buildings in Your Warehouse Can Be Built Quickly and Easily
These structures use the same architectural elements as traditional buildings, but they are compartmentalized into 4-foot-wide units that fit together easily using traditional tools. They are manufactured offsite to your exact specifications.
Modular Buildings Make Accounting Sense Too
Conventional construction is a capital expense so it can take more than 31 years to depreciate for tax purposes. Modular buildings receive a seven-year depreciation rate, translating to a faster return on your investment.
Are You Ready for a Truly Fast and Easy Way to Expand?
Mezzanine Distributors is your warehouse space, optimization expert. Call us today to discuss your interior expansion plans, your major pain points, and we will help you design and implement the perfect solution.