Industrial Warehouse Mezzanines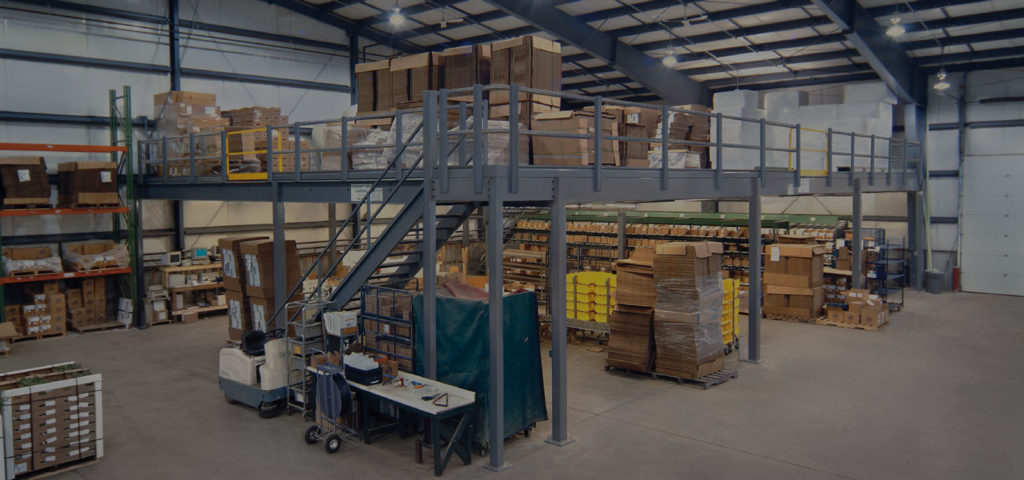 The industrial warehouse market must deal with space and size challenges that other industries do not encounter. In order to be profitable, you need to make the most of your floor space and find ways to maximize your storage space. An industrial warehouse mezzanine is one of the most cost-effective ways to achieve this goal and Mezzanine Distributors is the perfect partner to provide your mezzanine system.
The Benefits Of An Industrial Mezzanine
Our structural steel mezzanine systems will be designed to fit the requirements of your existing facility and the demands of your business. Our work platforms will take advantage of your vertical space to provide the best opportunity for your business to grow. Depending on your needs, we can add a second or even third level to your location.
We can develop a system that will integrate your production flow and the performance requirements of your business. Our mezzanines can support general storage, racking and shelving, conveyors, office space and more. Our experts will design a structure that will ensure a safe and commercially beneficial structure for your day-to-day operations.
A mezzanine system that is designed to meet your needs will have a wide range of applications for your facility. We make recommendations based on your ceiling height, general and local code requirements, your material handling requirements, and even the best warehouse mezzanine flooring system for your day-to-day operations.
With our help, this new level of your facility can support many different functions for your business:
    

A modular office space

    

An one or two story level addition of storage space

    

A new production level for your operations
Those are just a few of the opportunities that a mezzanine system can provide. A major part of industrial warehousing is the efficient execution of daily operations. The freedom of movement that an industrial mezzanine system provides will allow you and your employees to use your existing space more productively. What could your business achieve with an economical and efficient addition of useable square footage?
The Mezzanine Distributors Advantage
The most significant factor after deciding that a mezzanine system is right for your facility is finding a provider that will take the time to understand the needs and goals of your business. Mezzanine Distributors is a turnkey pre-fabricated mezzanine system provider, and we have the knowledge and expertise to make the most of your available space. One of the biggest advantages of a work platform over a new addition or moving to a new building is the cost reduction.
With us as your partner, you will get the most out of those savings. A mezzanine system is a one-time investment that will go up much quicker than a new addition to your building, and it will come with fewer tax implications later on. We can be your single point of contact for everything from the first consultation, through the design and fabrication process, and even shipping to your location and final installation. We are your single source for mezzanine solutions.
To learn more about industrial warehouse mezzanines and how they can help you optimize your use of space, contact Mezzanine Distributors today. We will design the best mezzanine for your business.